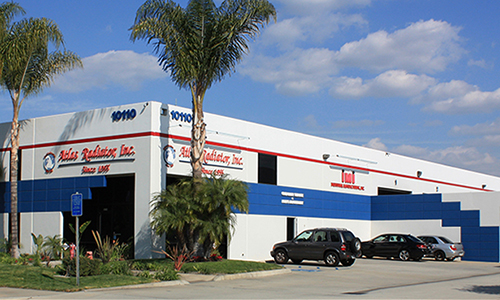 Atlas Radiator was started in 1955 by Don Miller in Santa Fe Springs California. In 1979 Eddie Cerda began working at Atlas Radiator doing odd jobs like flushing out radiators, painting radiators, and making late night deliveries. Later Eddie put himself through college while Don Miller gave him a flexible schedule to help accommodate his studies.
"The education I got in those years, the accounting and business management courses have really been helpful." Eddie says.
While Eddie didn't show much enthusiasm for repairing radiators, Mr. Miller recognized potential in his young employee.
Atlas Radiator 1975 "The personality, attitude and drive that Eddie has…he was gifted to do sales. Mr. Miller says, "I said one day to Eddie, I bet that you'd make a great salesman. In six months' time, he had 60 or 70 accounts. I knew he'd be around here a long time."
Eddie worked as a salesman for Atlas Radiator from 1982 until 1990. Over the years Eddie and Don became very close. When health problems forced Mr. Miller to retire in 1990 he had one person in mind to take over. "Thinking about the future, Eddie was the only one in mind who could handle it" said Miller.
In February 1990 Eddie took over the company. Coming off the best 2 years ever for the business, it might have been enough for Eddie to just avoid making to many changes. In the early 90's an economic recession hit California especially hard that year. Through hard work and difficult decisions Eddie road through the storm and came out even stronger. By 1993 the company purchased a new fleet of vehicles and started building the current facility finished in 1995.
In 1996 Atlas Radiator started manufacturing their own copper & brass radiator cores in house. Allowing them to provide there customers with fast and quality service.
Now Atlas Radiator is a Leader in the heat transfer industry. Expandinging to Fuel tanks, Oil Collers, AC Condensors, Heat Exchangers and more.